KlassikDrain
General purpose trench drain system available in 100mm (K100), 200mm (K200) and 300mm (K300) internal width with either galvanised or stainless steel edge rail. All systems have 40 metres continuous slope.
Mouseover or touch the red dot to show Product Features
K300
300mm internal width
K200
200mm internal width
K100
100mm internal width










Wide choice of grates
in various materials and styles for applications from Load Class A to D (AS 3996).

Polymer concrete
a durable yet lightweight material made from polyester resin binder reinforced by mineral aggregates and fillers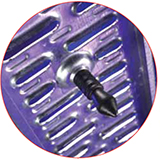 QuickLok
patented, boltless locking system provides quick
fitting and removal of grates.
Helps reduce installation,
maintenance time and cost.
Provides two lockings per
metre.

'Anti-shunt' lugs
recesses in grate fit around lugs on the edge rail to prevent longitudinal movement.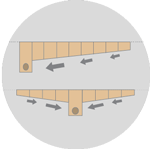 Sloped (0.5%) channel units
metre long units provide 40m continuous slope. This equates to 0.5% fall per linear metre.
Channel identification & system numbering
in addition to channel numbering on sidewalls and base of channel, each end of the channel indicates the number of the channel that will connect to it.

Integrally cast-in
galvanised steel edge rail
provides additional strength and protects channel body from damage. (Stainless steel edge rail also available).
Knock-outs
are included on every 5th channel unit to allow vertical evacuation of the system along the run.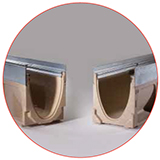 Interconnecting end profiles
allow easy and effective joining of channels.allow easy and effective joining of channels.