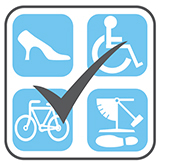 At ACO, we believe that pedestrian friendly grates and slip resistance go hand in hand. The grates with the trademark, Heelsafe® Anti-Slip comply to all four specific user requirements; heelsafe, wheelchair and walking cane safe, bicycle safe and are slip rated.
A slip resistance classification is assigned to these grates. AS 4586 sets out three recognised tests that determine slip resistance: wet pendulum test (P-rating), wet-barefoot inclining platform test (A, B or C rating) and oil-wet inclining platform test (R-rating). HB 198 references AS 4586 by specifying the minimum slip resistance ratings dependent on the application.
Grates with raised mechanical nodes have excellent durability compared with those produced by manufacturers who apply coatings or mechanically alter (bead blast etc...) to attain a level of slip resistance. These processes will not only ensure a short term slip resistance due to the wearing process but can introduce impurities in the material which will accelerate corrosion.
ACO's range of Heelsafe® Anti-Slip grates have raised mechanical nodes and are available in plastic, stainless steel and ductile iron, for more information visit www.heelsafe.com.au


M50K Channels
50mm internal width

Part No.

Invert1
mm

Weight
kg

Galv

S/S

Neutral channel - (1m)

04071

06750

74

8.2

End cap

95403

894

0.1
Notes:
1. For overall depth add 15mm to invert depth.
2. Preformed 38mm dia. drill-out to underside of channel.
3. MiniKlassik does not fit with any ACO pit - discharge via vertical outlet only.
4. Overall depth of end cap.